Wine & Food Festival Tickets
Dates:
Saturday
May, 2018


Where:
Quiet Waters Park
401 S Powerline Road
Deerfield Beach, FL 33442


Tickets:
- Adult Tickets
- Kids Tickets


Welcome to A Blue Wave Affair!
We're looking forward to seeing you...
Join us at these two events: 2018 Event Scheduled.
Event: 7th Annual Boca Burger Battle

Details: The excitement is rising and the BBQ Grills are firing up for the epic 7th Annual Boca Burger Battle Competition on Saturday, July 14th, 2018 in Sanborn Square Park in downtown Boca Raton. The hand-picked team of 18 Chefs are incredibly adventurous at creating secret recipes as preparations for A Grilling Affair! returns for the seventh year. Join us for this awesome Community Event that helps benefit south Florida Non Profits.

Date & Time:
&nbsp&nbsp&nbsp Saturday, July 14th, 2018
&nbsp&nbsp&nbsp&nbsp&nbsp VIP - 6 PM to 10 PM | General Admission 7 PM to 10 PM
&nbsp&nbsp&nbsp&nbsp&nbsp Price: Discount Tickets On Sale!

Purchase Discount Tickets using this "Hidden Link": BocaBurgerBattle.com
Location:
Sanborn Square Park
72 N Federal Highway, Boca Raton, FL 33432
For More Information:
Call - 561.338.7594
Boca Raton Wine & Food Festival is on
Saturday, November 10th, 2018.
Event: 9th Annual Boca Raton Wine & Food Festival

Details: Come and enjoy the outdoor Culinary Affair in South Florida during the 9th Annual Boca Raton Wine & Food Festival at the Sanborn Square Park in downtown Boca Raton. This annual celebration promises to be a party no one will ever forget with Saturday's Grand Tasting event. South Florida Chefs from the tri-county area converge upon the festival grounds for the incredible Grand Tasting... A Culinary Affair!.

Date & Time: Saturday, November 10th, 2018
Grand Tasting - 6 PM to 10 PM
&nbsp&nbsp&nbsp&nbsp&nbsp

Price: Pre-Sale Tickets On Sale!

Purchase Discount Tickets using this "Hidden Link": BocaRatonWineAndFoodFestival.com/
Location:
Sanborn Square Park
72 N. Federal Highway, Boca Raton, FL 33432
For More Information:
Call - 561.338.7594
---
Here's a great family-friendly event to celebrate the end of school and the beginning of summer, so pack up the kids and head out to Quiet Waters Park in Deerfield Beach to enjoy a wide range of noshing opportunities from a lineup of south Florida restaurateurs, private caterers and your favorite food trucks. There will be both regular and Craft Beers, Specialty Wines for the Adults and fun beverages for the Kids. There's something for everyone!
As you stroll through the park on Saturday feeling the balmy breeze you will be embraced in sensory delight. The meadow will be transformed into a lavish walkway of "sailing the ocean blue" and regions that come alive through a gastronomic journey of tastes, sounds and visions! Stroll through the festival enjoying live music all day and all night long. Be sure to bring extra money to shop in the retail shopping bazaar with over 50 hand-picked vendors and stop by and shop for your favorite festival wines in the on-site wine store. Be sure not to leave the kids behind this year because the Blue Wave Kids Zone has plenty of kids activities.
The Family Fun Day on Saturday will be a true Blue Wave Affair!
The Annual Deerfield Beach Wine & Food Festival brings you face-to-face with those who have made their lives -- their craft. This is the time for you to dine, drink fine wine and experience A Blue Wave Affair like no other!
---
2018 NON PROFIT COMMUNITY PARTNER - PROPEL
| | |
| --- | --- |
| | PROPEL strives to act as a catalyst for sustained positive change in the lives of communities and families by establishing collaborative partnerships with businesses, community organizations, services providers and government agencies. PROPEL strengthens and stabilizes the functioning of those at risk from becoming homeless through a variety of multifaceted services and accessing levels of education to provide G.E.D. preparation classes for high school drop-outs, by providing intervention and crime prevention, and providing avenues to prevent technical and financial illiteracy. If you or someone you know fits this description, and need PROPEL'S guidance to a better future, don't hesitate to call PROPEL today! |
---
A Blue Wave Affair! Video
---
2018 Musical Entertainment Lineup
Krush is a pre-teen, classic rock band, who began playing together in December 2013, after bonding, forming friendships, and discovering their obvious chemistry at the School of Rock in Lake Worth, Florida. Krush is a vision of Brad and Laurie Rothschild, parents of lead guitarist Nicholas Rothschild, after experiencing frustration with trying to find better musicians to play with the exceptionally talented Nick. Brad and his wife Laurie handpicked each Krush member with the hopes of a better band, better sound, and better quality. Laurie has a musical background and an ear for what is needed, this has been instrumental in the development of the band and the songs they play. Krush rehearses weekly at DC Rehearsal Studios, their ongoing support and professionalism has been key to the success of Krush. The Krush fan base is growing quickly, from pre-teen admirers to industry pros, and are quickly making a name for themselves as the next generation of rock.
More information can be found on KRUSH
---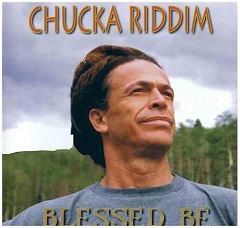 Chucka Riddim is a singer / songwriter / guitar player / producer of the Rootsrock Reggae Musical genre. He currently performs Soulo Acoustic sets of groovin', soothin', healing, pleasing, and internationally appealing musical creations and interpretations sending forth blissful, blessed expressions, sensations, and, vibrations... He's been living in Florida the past ten years now after living in Brooklyn, NYC where he grew up. Chucka established himself residencies at NYC Greenwich Village venues such as The Bitter End, Terra Blues, Kenny's Castaways, The Backfence, etc... for the last 25+ years. He has 3 CDs of original Music for sale at present, and two record projects in the future works. Please friend him on Facebook to stay informed where he'll be performing.
More information and music can be found on Chucka Riddim
---
What do you get when you take musicians from some of the very best reggae bands in South Florida and front them with a country singer from Nashville? Country-Reggae fusion? Hell, YEAH! Mon... Think UB40...with a twang. Country classics, redneck anthems and honky tonk sing-alongs, all played to authentic reggae riddims. Standards by Johnny Cash, Willie Nelson, Charlie Daniels, Merle Haggard, Lynyrd Skynard, et al, as well as new classics from Big & Rich, Zach Brown Band, Florida Georgia Line...songs known by just about everyone, but for the first time played reggae style. The first public appearance for VOODOO POSSUM's was at Kevro's Art Bar in Delray Beach, FL, named "Delray's funkiest bar" by Delray Beach magazine, and voted one of Delray's favorite hotspots by the Palm Beach Post, as well as featured in Rand McNally's "Best of the Road" and on TV's Travel Channel. VOODOO POSSUM played only a 10-song guest set, but the band was immediately asked to be a regular house band at Kevro's. This soon lead to an invitation to play the Colors of the Caribbean Festival in Hollywood, FL last summer. Sharing the stage with monster reggae / soca acts Harmonik, Midnite and Kevin Lyttle (2004's smash hit "Turn Me on"), Colors of the Caribbean had 7,500 in attendance. The predominantly caribbean crowd didn't know what to make of VOODOO POSSUM at first, but lead singer Roscoe worked the crowd and before their set was over there were people singing and dancing to country songs who had never before sang or danced to a country song. This led to the City of Hollywood inviting the band back to play a free concert at Hollywood Artspark for the citizens of Hollywood on November 22nd. This band is ready to explode with a sound that has never before been heard anywhere, and which is familiar and novel at the same time. If you like Country music, you will like VOODOO POSSUM. if you like Reggae music, you will like VOODOO POSSUM. If you like Country Music and you like Reggae music...you will love VOODOO POSSUM! Country Reggae fusion??? Hell, YEAH!!! Mon....
More information can be found on VOODOO-POSSUM
---

Groove Line is one of the top dance/party bands in South Florida. Weddings, parties and corporate events are our specialty. We are also available special events, fundraisers, community and charity events. We promise that Groove Line will get your feet moving and get your soul grooving. Providing a mix of songs ranging from 50's to today's top 40, Disco to Rock, Swing to Soul, and Classical to Jazz, we can help make your next party a time to remember. Groove Line performs 100% LIVE! We don't use background tracks or sequencers. You also get THREE..count them…THREE front vocalists along with FIVE professional backline musicians that also provide background vocals.
---
2nd Annual Deerfield Beach Wine and Food Festival
1st Annual Deerfield Beach Wine and Food Festival
---